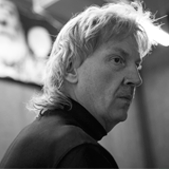 Charles Boswell
CEO, Founder
Musician, electrical engineer, and filmmaker Boswell founded Austin based Tragicom Studios in January 2013. Prior to launching Tragicom, he spent 17 years at semiconductor giant Advanced Micro Devices (AMD), where he founded the Digital Media and Entertainment team in 2001. As director of the DM&E team Boswell was afforded the opportunity to collaborate with some of the top creative technology pipelines in the world including those of directors George Lucas and Robert Rodriguez. AMD's introduction of their vanguard 64-bit computing in both client and server roles benefited greatly from the entertainment market engagements resulting in global brand attachments like Lucasfilm Ltd. and Star Wars. He is the inventor of AMD Live!, which was one of the longest running and most successful global branding campaigns in the history of AMD. Boswell approaches the creative process with a watchful eye toward technology as he seeks to balance the sanctity of human creativity with production power. In addition, Boswell holds 11 software patents in signal processing and one in fault tolerant computing. His engineering experience includes both the private and military sectors with hardware and software design for projects ranging from process control to military counter measures, including work on the Space Shuttle program for NASA. Boswell's current technology focus is employing technologies and lowering operating expense in data centers with advanced GPU accelerated codecs for new streaming media devices and cloud distribution.
Accomplished at delivering corporate technology messaging attached to globally recognized media assets such as the Star Wars prequels. Boswell is a director/producer with commercial movie credits for marquee brands including Eric Clapton, Mark Knopfler, Dweezil Zappa and the Zappa Family Trust, and Doyle Bramhall-II.
He is co-creator of the Fantastic Fest -Dell NextWave Award recognizing outstanding new talent in genre-based film directing. Winners include Academy Award nominated director of "Bullhead" for Best Foreign Language Film 2012. Boswell has been featured in Business Week, Forbes, USA Today, Wall Street Journal, and the New York Times. His speaking engagements include NAB, IBC, CES, SIGGRAPH, SXSW, University of Texas, and Abu Dhabi Media Summit.
Articles and Publicity
Expand